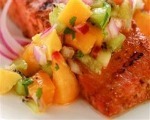 Prep: 15 min
Cook Time: 12 min
Total: 27 min
Serving: Serves 4 people
Grilled salmon with fruit salsa is a tasty twist to a more traditional dish. The fruit pairs nicely with the smokiness of the grilling.
Ingredients
16 ounces fresh salmon, cut 1-inch thick
3/4 cups chopped strawberries or peeled and chopped peaches
1/3 cup chopped kiwi
1 tablespoon fresh cilantro, chopped
1 tablespoon orange juice
1 jalapeno pepper, seeded and chopped
1 teaspoon olive oil
1/8 teaspoon lemon-pepper seasoning
Nonstick cooking spray
Directions
Cut the salmon into 4 serving-sized pieces. To mix the salsa, combine the fruit, cilantro, orange juice and jalapeno pepper in a medium-sized bowl and set it aside.
Brush the fish on both sides with the olive oil. Season it with the lemon-pepper seasoning. Spray the rack of an unheated grill with the nonstick cooking spray. Grill the fish over a medium-hot grill, uncovered, for about 10-12 minutes, or until the fish flakes easily with a fork. Be sure to only turn the fish once.
Serve the salmon warm topped with the fruit salsa.