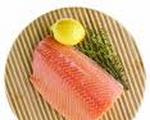 Prep: 5 min
Cook Time: 10 min
Total: 15 min
Serving: 4
Grilled Salmon Steaks have a delicious basting sauce.
Ingredients
4 salmon steaks
1/2 cup butter, melted
1 tablespoon lemon juice
1/2 teaspoon dried dill
1/2 teaspoon dried basil
1/2 teaspoon sweet paprika
1 tablespoon fresh parsley, finely chopped
Directions
Melt the butter, add lemon juice and herbs and spices, simmer briefly.
Brush the salmon steaks with the butter mixture and place them on a hot charcoal grill. Cook for five minutes, then turn, brushing with remaining butter sauce. Cook for three minutes, prod with a fork. If the fish flakes, it's done. Don't over cook.