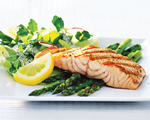 Prep: 20 min
Cook Time: 15 min
Total: 35 min
Serving: Serves 4
A healthy and delicious recipe for those who don't have a lot of time for the kitchen, but still want to eat a great meal.
Ingredients
1/3 cup maple syrup
2 tablespoons Dijon mustard
1 tablespoon olive oil
1 pound salmon fillet (1/2 inch thick)
1 pound fresh asparagus spears
4 cups mixed baby salad greens
1 cup shredded carrots
1 hard-boiled egg, cut into 8 wedges
Directions
Prepare your grill to medium heat.
Heat the maple syrup for a few seconds in the microwave to warm and thin consistency.
Put the syrup in a small bowl with the mustard and olive oil and mix with a wire whisk.
Cut the the salmon into 4 pieces and brush with about 1 tablespoon of the maple syrup dressing.
Place the asparagus in a large bowl and toss with 1 tablespoon of the dressing to coat.
Place asparagus and salmon on the grill. Cook asparagus for 10 minutes and the salmon, skin side down, for about 15 minutes.
Place the salad greens, carrots and egg evenly divided onto 4 plates. Remove skin from salmon and place on greens. Top salmon with the asparagus and drizzle with remaining dressing.