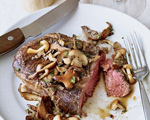 Prep: 10 min
Cook Time: 18 min
Total: 28 min
Serving: 4 Servings
Using fish sauce to season the mixed wild mushroom topper in this dish adds additional taste and Asian-flare to this classic American Steak.
Ingredients
2 tablespoons unsalted butter
2 tablespoons extra-virgin olive oil plus extra for steaks
2 large shallots, thinly sliced
2 pounds mixed mushrooms, such as cremini, oyster, and shiitake, stemmed and thinly sliced
2 tablespoons Asian fish sauce
1 pinch of cayenne pepper
2 tablespoons chopped tarragon
2 tablespoons snipped chives
4 rib eye steaks, cut about 3/4-inch think; about 10 ounces each
Salt and freshly ground pepper
Directions
Place the butter and olive oil into a large sauté pan over high heat. Once hot, add the shallots and the mushrooms and sauté for 8 minutes until all of the liquid has evaporated.
Stir in the fish sauce and the cayenne pepper and cook the mixture for 1 minute, then add the tarragon and the chives, cover and remove from heat.
In meantime, prepare a grill pan over high heat. Brush each steak with olive oil and then sprinkle both sides with salt and pepper. Cook the steaks for 4 minutes on each side for medium-rare doneness and then serve topped with the mushrooms.