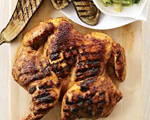 Prep: 10 min
Cook Time: 30 min
Total: 40 min
Serving: 4 Servings
Have your local butcher remove the chicken's backbone and flatten the bird for you. This will cut the cooking time in half so you can get this spicy and sweet red curry paste and coconut milk-rubbed chicken on the table in about 40 minutes.
Ingredients
1 3-pound chicken, wing tips removed
1/4 cup unsweetened coconut milk
2 tablespoons red curry paste
1 teaspoon dark brown sugar
Salt and freshly ground pepper
Directions
Prepare the gill on medium heat.
Place the coconut milk, curry paste and brown sugar into a bowl and whisk vigorously until completely blended.
Thoroughly rub the chicken on both sides with the curry mixture and then sprinkle generously with some salt and fresh pepper.
Place the chicken onto the grill, skin side down, and cook for 10 minutes. Flip the chicken and then close the grill cover; continue to cook for 20 more minutes. Remove the chicken from the grill and transfer to a clean working serve. Let the chicken rest for 5 minutes prior to slicing and serving.