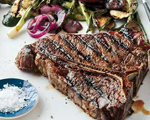 Prep: 10 min
Cook Time: 21 min
Total: 31 min
Serving: 4 Servings
All you need for this simple summer meal bursting with fresh flavor is a grill, vegetables, a few steaks and some good company.
Ingredients
1/2 cup extra-virgin olive oil
2 tablespoons fresh lemon juice
1 tablespoon red wine vinegar
1 tablespoon Dijon mustard
1 tablespoon chopped oregano
Salt and freshly ground pepper
2 medium zucchini, sliced on the diagonal 1/3 inch thick
1 red onion, sliced 1/3 inch thick
1 red bell pepper, cored and quartered
1/4 pound shiitake mushrooms, stemmed
1 pound asparagus
1 bunch scallions, roots trimmed and bottom 6 inches only
2 1-inch-thick porterhouse steaks, 1 pound each
Directions
Prepare a grill on high heat.
Place the olive oil, lemon juice, red wine vinegar, mustard, oregano and a few pinches of salt and pepper in a small bowl and whisk together to combine.
Put all of the vegetables into a large bowl, add half of the lemon mixture and toss to coat. Transfer the veggies to the grill and cook for 10 minutes, then return to bowl and toss with the remaining lemon sauce.
Generously season the steaks on both sides with salt and pepper, and then place on the grill for 11 minutes, flipping once, for medium-rare doneness. Remove the meat from the grill and serve with the prepared vegetables.