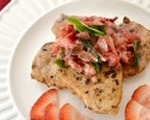 Prep: 10 min
Cook Time: 10 min
Total: 20 min
Serving: 4 People
You know the easiest way to make any meat taste amazing? Fry it in bacon fat. This fried pork recipe has all of the savory flavors of traditional pork chops, just with the added saltiness and fat you get from bacon. Paired with a sweet strawberry, bacon and basil compote and you have one truly mouth-watering dish.
Ingredients
4 pork chops
5 pieces thick-cut bacon
Salt and pepper
1/2 cup strawberries, chopped
6 basil leaves, chopped
1 tablespoon lemon juice
Directions
Heat a pan over medium-high heat. Cook the bacon for 5 - 7 minutes, or until crispy. Remove from the pan and chop it into bite-size pieces. Keep about 2 - 3 tablespoons of the bacon drippings.
Liberally salt and pepper the pork chops. Place the pork in a pan and cook it in bacon fat until it is done, about 3 - 4 minutes on each side. Remove from the heat.
To make the compote, place the strawberries in a mixing bowl. Smash them using a fork. Add the basil and smash it into the strawberries. Stir in the lemon juice until the mixture has a jam-like consistency. Stir in the bacon.
Serve the compote over the pork chops and enjoy!