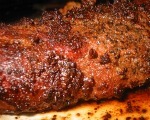 Prep: 8 hr 20 min
Cook Time: 40 min
Total: 9 hr
Serving: 6-8 servings
A simple, marinated pork loin- grilled to perfection.
Ingredients
1 (4 pound) boneless pork loin roast
1 (8 ounce) bottle Italian salad dressing
1 cup dry white wine
3 cloves garlic, minced
10 black peppercorns
Directions
Use a fork to pierce the pork in 1-inch intervals.
Mix together the dressing, wine, garlic and peppercorns in a bowl. Chill 1/2-cup of the mixture to use as for basting.
Place the roast in a large plastic bag and pour the marinade in. Chill for 8 hours, turning to insure an even marinade.
Remove from the bag and place on a grill rack. Cook in a covered grill for 35 minutes, or until the meat reaches an internal temperature of 160 degrees Fahrenheit. Turn every so often, basting with the reserved marinade.