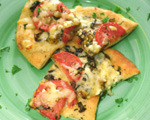 Prep: 20 min
Cook Time: 10 min
Total: 30 min
Serving: 4 to 6 People
Did you know that you can make a delicious grilled pizza on the grill? Move over hamburgers and hotdogs, pita pizzas are moving in! Full of flavor + endless possiblities for toppings, this will surely be a new staple for grill nights!
Ingredients
4 large pitas
1/3 cup olive oil
1 1/2 cup pizza sauce
2 cups shredded Monterrey Jack cheese
1 tablespoon minced garlic
1/4 cup fresh basil leaves, diced
sea salt and black pepper to taste
2 Roma tomatoes, thinly sliced
Directions
Brush each pita with olive oil. Brush olive oil on grill as well.
Top each pita with pizza sauce and spread evenly to edges.
Top pizzas with sliced Roma tomatoes, grated cheese, basil leaves, minced garlic, and salt and pepper to taste.
Plate pitas on grill until crust is golden and cheese is melted (5 to 10 minutes). Remove pita pizzas from grill and slice into quarters.