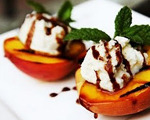 Prep: 10 min
Cook Time: 6 min
Total: 16 min
Serving: 6 Servings
This elegant dish is ideal served with a white dessert wine with a relatively high acidity to balance out the sweetness.
Ingredients
2 tablespoons clarified butter
3 firm but ripe peaches, pitted and halved
2 tablespoons unrefined sugar
1/2 cup mascarpone cheese, room temperature
1/4 cup plain Greek yogurt
1/2 teaspoon freshly grated cinnamon
1/4 teaspoon cardamom seeds, freshly ground
Balsamic glaze
Directions
Prepare your grill on medium-high heat.
Place the sugar, mascarpone cheese, yogurt, cinnamon and cardamom into a bowl and stir vigorously until blended.
Brush the peaches with the butter and then grill for 3 minutes on each side; transfer to serving plates. Dollop each peach halve with the mascarpone mixture and then drizzle with some balsamic glaze. Serve immediately.