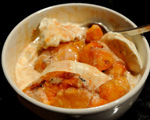 Prep: 10 min
Cook Time: 10 min
Total: 20 min
Serving: 4 Servings
No need to make any pre-prepared desserts to follow a barbeque meal. Use the already hot grill to cook up some caramelized peaches with a sugar and cinnamon glaze and then serve topped with vanilla bean ice cream.
Ingredients
4 ripe yellow peaches, halved vertically, pits and skins removed
1/2 teaspoon cinnamon
1 tablespoon light brown sugar
2 tablespoons unsalted butter
1 cup vanilla bean ice cream
Sea salt to taste
Directions
Put the butter in the microwave for about 35 seconds to melt, and then stir in the sugar and the cinnamon. Mix well to combine.
Brush the peach halves with the butter mixture and then add a sprinkle of salt.
Place the peaches onto the grill and cook for 5 minutes, then flip and cook for an additional 5 minutes before removing and transferring to a bowl.
Cut the peaches in half, divide between 4 dessert bowls and then top each with 2 scoops of ice cream. Serve immediately.