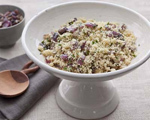 Prep: 10 min
Cook Time: 12 min
Total: 22 min
Serving: 4 Servings
Fluffy and light couscous is paired with minced grilled onions in this simple vegetarian side dish recipe.
Ingredients
1 large red onion, cut into 1/2-inch-thick ring slices
1 tablespoon olive oil
Salt and freshly ground black pepper
2 cups chicken broth
1 (10-ounce) box plain couscous (1-1/2 cups)
1/4 cup coarsely chopped fresh cilantro
Lime juice to taste
Directions
Place a grill pan over medium-high heat.
Brush the onion slices with olive oil, add few sprinkles of salt and pepper, and then place on the hot grill to cook for 6 minutes, flipping once halfway through the cooking time.
Once the onions are cool enough to handle, chop into a fine dice and set aside. v
Place the chicken broth and a few pinches of salt into a saucepan and bring to a boil.
Once the mixture boils, remove the pan from the heat and immediately add the couscous and the onions. Stir to combine and then cover the pan and let stand for 5 minutes.
Remove the pan cover, fluff the couscous mixture with a fork and then gently fold in the cilantro. Add some lime juice to taste and season with additional salt and pepper if needed. Serve immediately.