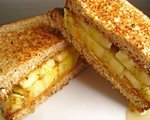 Prep: –
Cook Time: –
Total: –
Serving: Makes 6 to 8 servings
Chocolate hazelnut and banana come together in heavenly bliss in this Nutella and Banana recipe.
Ingredients
3/4 cup warm water
1 teaspoon salt
2 cups all-purpose flour
1/2 cup granulated sugar plus 2 tablespoons
2 tablespoons unsalted butter
2 bananas, sliced
1 cup Nutella spread
Powdered sugar
Directions
Combine water with olive oil, flour, and 1/2 cup sugar in a large bowl. Mix well until dough forms, but do not over mix.
Take dough out of bowl and divide into 2 sections. Roll each section out flat into a rectangle or circle.
Preheat grill to medium heat. Melt butter in a skillet and add bananas and sugar. Sauté until bananas are warmed through and caramelized.
Meanwhile, place dough on grill and cook 10 to 12 minutes.
Remove dough from grill and spread Nutella over it. Top with bananas and place back on grill to finish cooking. Cook 5 to 7 more minutes or until dough is fully cooked.