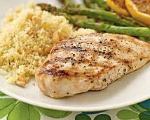 Prep: 40 min
Cook Time: 20 min
Total: 1 hr
Serving: 4 people
Lemon and herbs combine for a mouthwatering grilled chicken marinade.
Ingredients
1 lemon
2 tablespoons olive oil
1 clove garlic, crushed
1 tablespoon choped fresh parsley (extras for garnish)
1/4 teaspoon dried thyme
1/4 teaspoon dried marjoram
1/4 teaspoon salt
1/4 teaspoon black pepper
4 boneless, skinless chicken breasts
Directions
Using a peeler, remove strips of zest from one half of the lemon. Using a small knife cut into fine strips.Grate the other side of the lemon to get 1 tablespoon's worth of zest. Squeeze the juice from the lemon into a bowl.
Combine the lemon juice and zest, oil, and all your herbs and spices in a large bowl.
Add the chicken breasts, spooning the marinade over until they are well coated. Cover with plastic wrap and chill for at least 30 minutes, overnight if time allows.
Preheat the broiler, grill or griddle to medium heat. Reserving the marinade, place the breasts on the grill. Cook for about 10 minutes per side, until cooked through, brushing a few times with the reserved marinade.
Garnish with the lemon zest strips and fresh parsley sprigs, and serve immediately.