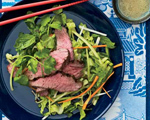 Prep: 25 min
Cook Time: 12 min
Total: 37 min
Serving: 4 Servings
Lamb is such a wonderful alternative to beef and chicken. Enjoy it grilled to medium rare doneness, thinly sliced and served with a romaine and jicama salad.
Ingredients
1 1-pound piece boneless leg of lamb, about 3 inches thick
1/4 cup olive oil, plus more for rubbing
2 teaspoons ground cumin
Salt and freshly ground black pepper
3 tablespoons white wine vinegar
1 teaspoon honey or agave nectar
1/2 teaspoon dry mustard
Freshly ground white pepper
4 cups thinly sliced romaine lettuce
1 6-ounce piece of jicama, peeled and cut into matchsticks
1 large carrot, cut into matchsticks
1 medium seedless cucumber, peeled and cut into matchsticks
1/2 cup shredded basil, plus 4 sprigs
2 red jalapeños, seeded and sliced
4 cilantro sprigs
Directions
Prepare the grill on moderate heat.
Brush the lamb on all sides with olive oil and then sprinkle with 1 teaspoon of cumin, sea salt and freshly ground black pepper. Rub the spices into the lamb and let stand at room temperature for 10-12 minutes.
In the meantime, place the vinegar, honey, mustard and the remaining 1 teaspoon of cumin in a small bowl and vigorously whisk together to combine.
Place the lamb on the grill and cook for 12 minutes, turning a few times to ensure even cooking. Place on a clean surface and let rest for 6 minutes before cutting into thin slices.
Place the romaine, jicama, carrot, cucumber, shredded basil and jalapeños into a large salad bowl and then pour in the dressing. Toss the mixture to combine until well coated.
Place the lamb slices onto the salad and sprinkle with the cilantro sprigs to garnish.