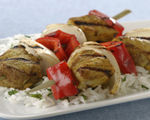 Prep: 4 hr
Cook Time: 12 min
Total: 4 hr 12 min
Serving: 8
For a delicious Indian meal, you don't have to head out to a restaurant. Instead, you can make these grilled Indian pork kebabs at home. Serve them with rice and grilled vegetables.
Ingredients
1 sirloin pork roast, about four pounds, boned and cut into 1-1/2-inch cubes
2 large red bell peppers, seeded, deribbed and cut into 1-inch squares
2 large sweet onions, such as Walla Walla or Vidalia, cut into 1-inch chunks
2 (12-inch) wooden skewers, soaked in water for at least 30 minutes
Vegetable oil cooking spray
4 large cloves garlic
2 tablespoons curry powder
1 tablespoon kosher salt
1 tablespoon ground cumin
1 tablespoon ground coriander
1/4 teaspoon cayenne pepper
1/2 cup fresh lemon juice
2 tablespoons olive oil
2 tablespoons water
Directions
To make an Indian spice paste, place garlic in food processor and process until minced. Add spices, lemon juice, oil and water. Process until thoroughly combined.
Place pork in large self-sealing plastic bag. Pour paste over pork and mix pork with paste until pork is evenly coated. Seal bag and refrigerate for two to four hours.
Spray grill grate with vegetable oil spray. Prepare medium-hot fire in charcoal grill or preheat gas grill to medium-high. Thread pork onto skewers, alternating with pieces of red pepper and onion.
Grill kebabs directly over medium-hot fire, turning to brown evenly on all sides, for a total of ten to 12 minutes.
Transfer to warm platter or individual dinner plates and serve.