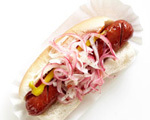 Prep: 4 hr 15 min
Cook Time: 6 min
Total: 4 hr 21 min
Serving: Makes 8 Hot Dogs
Just the right blend of sweet and savory from the pickled onion makes this hot dog a delicious winner.
Ingredients
1 sweet yellow onion, cut into thin slices
1 small red onion, cut into thin slices
1/2 cup cider vinegar
1/2 cup distilled white vinegar
1/2 cup granulated sugar
A few pinches of sea salt
2 teaspoon celery seed
1 teaspoon crushed red pepper flakes
8 1/4-pound all-beef hot dogs, grilled
8 hot dog buns
Directions
Place the cider vinegar, white vinegar, sugar, salt, celery seed and red pepper flakes into a bowl and whisk until mixture is blended and sugar and salt have completely dissolved.
Add the onions to the vinegar mixture and stir to coat.
Cover the bowl and allow the onions to marinate for 4 hours, stirring once every hour, then drain the onions and set aside.
Prepare the grill on medium heat.
Using a sharp knife, makes a few shallow cuts in each of the hot dogs and then place on the grill for 6 minutes, turning occasionally, with the lid closed.
Place each grilled dog in a bun and top with the pickled onions. Serve immediately.