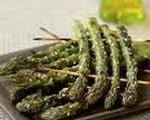 Prep: 15 min
Cook Time: 35 min
Total: 50 min
Serving: 4 People
Dress up asparagus with herbs and cheese for a delicious side dish that's fast and easy to make.
Ingredients
1 bunch asparagus
1 1/2 tablespoons extra-virgin olive oil
1/4 teaspoon pepper
1/4 teaspoon sea salt
1/2 teaspoon fresh chopped thyme (or 1/4 teaspoon dried)
1/2 teaspoon fresh savory (or 1/4 teaspoon dried savory)
3 tablespoons grated Parmesan
Directions
Combine asparagus, olive oil, pepper, salt, thyme, and savory in a resealable bag; shake until well coated. Let the asparagus sit in the spice bag for 10 to 15 minutes, while you heat up the grill.
Heat grill to medium heat. Lay the asparagus in a single layer across the grates. Cook, turning often, until desired tenderness (10 to 15 minutes on direct heat).
Remove from grill and immediately top with Parmesan; let cool 5 to 10 minutes before eating (it will be very hot).