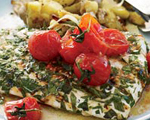 Prep: 2 hr
Cook Time: 40 min
Total: 2 hr 40 min
Serving: 4 Servings
The grilled halibut in this dish is complimented by a coating of fresh parsley and tarragon and a side of garlicky fingerling potatoes, topped with rich buttery tomatoes.
Ingredients
1/2 cup chopped parsley
1/4 cup chopped tarragon, plus 1/4 cup whole leaves
Finely grated zest of 1 lemon
Four 6- to 7-ounce skinless halibut fillets
2 pounds fingerling potatoes
Sea salt
1/4 cup extra-virgin olive oil, plus more for drizzling
5 garlic cloves, thinly sliced
2 medium shallots, thinly sliced
Freshly ground pepper
6 tablespoons unsalted butter
1 pint cherry tomatoes
Directions
Place the parsley, tarragon and lemon zest in a large bowl and mix. Add the halibut fillets and toss with the herbs until fish is well coated; cover the bowl and place the halibut in the refrigerator to marinate for at least 2 hours.
Put the potatoes in a large saucepan and fill with water until potatoes are covered. Add salt to the water and then bring to a boil over high heat. Once the potatoes boil, reduce heat to medium-high and simmer for about 10 minutes. Drain the potatoes and set aside to cool.
Prepare your gill on medium-high heat.
In a large sauté pan, heat the oil and sauté the garlic and shallots until garlic is fragrant but not browned, about 2 minutes. Drop in the potatoes and sauté for about 6-8 minutes; the potatoes will become brown and crispy. Sprinkle with salt and pepper and set aside.
In another sauté pan, melt the butter and sauté the tarragon over medium heat for 2 minutes. Put in the tomatoes, reduce the heat to low, and continue to sauté for about 8 minutes until the tomatoes split. Sprinkle with salt and pepper and set aside.
Brush the halibut with olive oil and sprinkle with salt and pepper. Place fish on the grill and cook for approximately 3 minutes per side, flipping once.
Place the halibut on a plate and spoon over the tomatoes on top of the fillet. Serve immediately with a side of the fingerling potatoes.