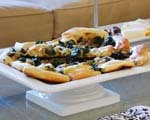 Prep: –
Cook Time: –
Total: –
Serving: Makes 6 to 8 servings
Grill this delicious grilled gruyere and onion flatbread for a tasty appetizer for entertaining.
Ingredients
3/4 cup warm water
2 tablespoons olive oil
1 teaspoon salt
2 cups all-purpose flour
1 tablespoon granulated sugar
1/4 cup salted butter
2 medium sweet onions, quartered and sliced
3 garlic cloves, minced
2 teaspoons fresh tarragon, minced
1 cup shredded Gruyere cheese
2 tablespoons grated Asiago cheese
Directions
Preheat grill to high heat. In a large bowl, combine water, olive oil, salt, flour and sugar. Mix well until a dough forms, taking care to not over mix.
Dump dough out of bowl onto a lightly floured surface and divide into 2 sections. Roll each section out flat into a rectangle or circle. Set aside, covered with a damp towel.
Melt butter in a skillet and sauté onions and garlic until golden. Stir in tarragon and cook 1 to 2 more minutes.
Spread onion mixture evenly on both pieces of dough. Sprinkle with both cheeses and place dough on grill. Close lid and cook for 15 to 20 minutes or until bottom of dough has grill marks on it and cheese is melted. Serve warm.