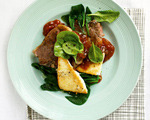 Prep: 6 min
Cook Time: –
Total: 6 min
Serving: 10 Servings
Haloumi is a traditional white Cypriot cheese, made from sheep, goat or cow's milk, that has a high melting point which makes it ideal for frying or grilling.
Ingredients
8 lamb chops
1-1/2 cups jarred tomato sauce
1 pound baby spinach
7 ounces halloumi cheese, sliced
Sea salt and freshly ground black pepper
Juice of 1 lemon
Directions
Preheat your oven broiler.
Put the lamb chops into a baking dish and then add the tomato sauce. Flip the chops to coat with the sauce and then place in the oven for 6 minutes to cook.
Once the lamb chops have cooked, remove them from the oven and then add the baby spinach and a pinch of salt and pepper. Toss the mixture to combine and then transfer to serving plates. Garnish each serving with some of the halloumi cheese and a squeeze of fresh lemon juice. Serve immediately.