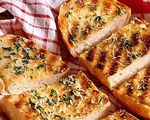 Prep: 5 min
Cook Time: 5 min
Total: 10 min
Serving:
Whenever you use the grill to cook a meal, a side of grilled French bread, sprinkled with Parmesan, garlic and red peeper, should be a staple at your dinner table.
Ingredients
1/4 cup olive oil or butter
2 tablespoons snipped fresh parsley
1 clove garlic, minced
1/8 teaspoon ground red pepper
1/4 cup grated Parmesan cheese
1 16-ounce loaf unsliced French bread, cut in half lengthwise
Directions
Place the olive oil or butter into a medium-sized sauté pan over medium heat. Add the parsley, garlic and red pepper and cook for 1 minute, and then mix in the Parmesan cheese.
Put the bread on the grill, cut side down, and grill for 2 minutes, then flip and brush with the Parmesan cheese mixture. Grill the bread for an additional 2 minutes and then remove from the grill, slice and serve.