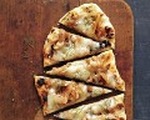 Prep: 15 min
Cook Time: 40 min
Total: 55 min
Serving: 4 People
Grilled fontina and onion pizza is great for springtime weather due to the fresh onions and ease of firing up your grill.
Ingredients
1 large onion, sliced thin (about 1/2 cup)
2 tablespoons olive oil
1 teaspoon butter
1 garlic clove, sliced
1/2 cup olive oil
2 teaspoons fresh rosemary leaves, minced
4 ounces prepared pizza dough
Non-stick cooking spray
Salt and pepper to taste
4 ounces shredded fontina cheese
Directions
First, caramelize the onions: Use a large saute pan over medium-high heat and add the two tablespoons olive oil and the butter. Add the onions and stir to coat. Spread the onion over the bottom of the pan and allow to cook, stirring occasionally, for about ten minutes. Next, sprinkle a bit of salt over the onions. Let cook for 30 minutes to an hour. Let the onions stick to the pan a little to brown, then stir so they won't burn. Continue this for about a minute at a time throughout the cooking process.
Meanwhile, coat your grill with non-stick cooking spray, then preheat to medium-high.
In a small saucepan over medium heat, add the garlic, 1/2 cup olive oil and rosemary leaves. Simmer for about three minutes. Set aside and allow to cool to room temperature.
Stretch the pizza dough out over a lightly floured surface into a 10-inch oval or round shape. Lightly brush one side with the herbed oil and season with salt and pepper.
Place the dough, oiled side down, on the grill and cook for one to two minutes. Charred dough bubbles should appear. Flip the dough and cook for another two minutes or so. Slide it to the cooler side of the grill.
Top the pizza dough with the fontina cheese and caramelized onions. Cook until the cheese melts and the pizza is heated through.