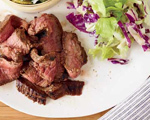 Prep: 15 min
Cook Time: 10 min
Total: 25 min
Serving: 10 Servings
Sichuan peppercorns add intense bold flavor to these grilled flank steaks in this simple Asian-inspired dinner.
Ingredients
1-1/2 tablespoons Sichuan peppercorns
3 tablespoons dry white wine
2-1/2 tablespoons Chinese black bean garlic sauce
2 teaspoons sugar
3 1-1/4-pound flank steaks
Sea salt
Directions
Place the peppercorns in a small sauté pan over medium heat and toast for 30 seconds. Transfer the peppercorns to a spice grinder, or a mortar and pestle, and process until they become a fine powder. Place the powder in a bowl along with the wine, black bean garlic sauce and sugar and whisk vigorously to blend.
Preheat a grill on medium heat.
Rub the steaks with the peppercorn sauce and let stand for 10 minutes at room temperature.
Place the steaks onto the grill and cook for 8 minutes, flipping once halfway through the cooking time. Let the steaks rest for 5 minutes before slicing and serving.