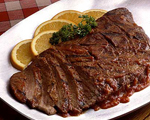 Prep: 5 min
Cook Time: 16 min
Total: 21 min
Serving: 6 Servings
Flank steak is a leaner cut of meat that is ideal for grilling. Brush on the homemade barbeque sauce during the last few minutes of cooking for added flavor.
Ingredients
1/4 cup chopped onion
1 clove garlic, minced
1/2 teaspoon chili powder
1 tablespoon butter
1/2 cup tomato sauce
2 tablespoons vinegar
1 tablespoon honey
1/4 teaspoon salt
1/4 teaspoon pepper
1-1/2 pounds beef flank steak, cut 3/4 inch thick and scored on both sides
Directions
Prepare the grill on medium heat.
To make the barbeque sauce, place the onion, garlic, chili powder and butter into a small saucepan over medium heat and cook for 5 minutes.
Add the tomato sauce, vinegar, honey, salt, and pepper and bring the mixture to a boil. Cook, stirring frequently, for 5 minutes.
Place the steak on the grill and cook, turning once, for about 6 minutes for medium doneness. Brush with the barbeque sauce right before flipping the steak, and again on the other side.