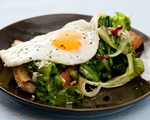 Prep: 10 min
Cook Time: 10 min
Total: 20 min
Serving: 4 Servings
This recipe makes a unique and delicious rustic brunch dish. Serve with a glass of Sauvignon Blanc for an irresistible and thoroughly satisfying meal.
Ingredients
4 tablespoons extra-virgin olive oil, divided
4 thick slices peasant Italian bread
3 garlic cloves (2 finely chopped; 1 halved crosswise)
3 garlic cloves (2 finely chopped; 1 halved crosswise)
1/4 teaspoon hot red pepper flakes
1 (1 1/2 pound) head escarole, quartered and washed well
4 fried eggs
Directions
Place 3 tablespoons of the olive oil in a small bowl and generously brush each bread slice with the oil.
In another bowl, combine the 2 finely chopped garlic cloves with the lemon juice, pepper flakes, remaining olive oil and a few pinches of salt and pepper. Add the escarole and toss well to coat.
Place a large grill pan over medium-high heat. Once hot, place the bread into the pan and cook for 4 minutes, then remove the bread from the pan and rub each slice with the remaining garlic halves.
Put the escarole mixture into the pan, sprinkle with some salt and pepper and then cook for 5 minutes tossing occasionally.
Place the toasted bread onto serving plates and then top with the escarole mixture and the fried eggs. Serve immediately.