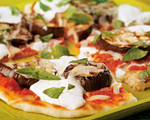 Prep: 7 min
Cook Time: 16 min
Total: 23 min
Serving: 4 Servings
Get these mini pizzas made and ready on the table in just 23 minutes. No need to get take out when making a pizza dinner is as easy as this.
Ingredients
4 baby eggplants (about 5 oz each), cut crosswise in 1⁄2-in.-thick slices
4 pocketless pitas
Olive-oil nonstick spray
1 cup bottled marinara sauce
1 cup part-skim ricotta
1 cup shredded part-skim mozzarella cheese
3 tablespoons grated Parmesan cheese
chopped fresh basil leaves to garnish
Directions
Prepare a grill on medium-high heat.
Spray the eggplants and the pitas with the olive-oil nonstick spray.
Place the eggplant on the grill for 10 minutes, flipping to cook on all sides, then add the pitas and grill for 1 minute.
Place the pitas onto a clean counter top and spread with the marinara sauce. Top with the eggplant, dollops of ricotta, the mozzarella and the Parmesan cheese, and then return to the grill.
Cook the mini pizzas for 1-1/2 and then remove and garnish with the basil. Serve hot.