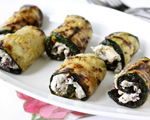 Prep: 25 min
Cook Time: 14 min
Total: 39 min
Serving: Serves 4-6
This tasty appetizer has a herbed goat cheese and toasted sunflower seed filling rolled up in slices of eggplant that have been roasted with olive oil. Pass them around at your next dinner party.
Ingredients
1/2 cup olive oil
1/2 teaspoon salt
1/2 teaspoon freshly ground black pepper
1 teaspoon minced fresh thyme
1 teaspoon minced fresh oregano
4 Japanese eggplants, each 4 to 5 inches long
4 ounces of goat cheese
2-1/2 tablespoons shelled sunflower seeds, lightly toasted
Directions
Preheat the oven to 450 degrees.
In a small bowl, mix the olive oil, salt, pepper, thyme and oregano together with a whisk and set aside.
Rinse off the eggplants, cut off the stems and slice, lengthwise, into 1/4-inch slices. Brush each eggplant slice, front and back, with the oil mixture and place on a baking sheet. Bake the slices for 14 minutes, turning frequently so they brown equally on all sides. Remove and set aside to cool.
In a small bowl, mix together the goat cheese with the sunflower seeds.
On a clean countertop, take one of the eggplant slices and thickly spread one side with the goat cheese mixture. Roll the slice upwards and secure with a toothpick. Place each roll on a serving platter and distribute, with a cocktail napkin among guests.