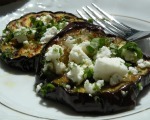 Prep: 15 min
Cook Time: 25 min
Total: 40 min
Serving: Serves 4 people
Eggplants have a rich, nutty flavor. Grilling them brings out a nice smokiness. Grilled Eggplant & Feta is a filling and deliciously different dish (and it comes with its own" bowl").
Ingredients
3 medium eggplants
4 ounces feta cheese
Small bunch of cilantro, chopped
4 tablespoons extra-virgin olive oil
Salt & pepper to taste
Non-stick cooking spray
Directions
Prior to heating your barbeque, spray the grate with non-stick cooking spray. Heat the grill to medium-high heat. Cook the whole eggplants for about 20 minutes (or until charred), turning occasionally. Remove and cut in half lengthwise.
Scoop out the flesh of the eggplant into a medium-sized bowl. Reserve the skins. Mash the flesh of the eggplant.
Crumble the feta, then add it to the mashed eggplant. Top with the chopped cilantro and olive oil. Season with salt & pepper. Spoon the mixture back into the skins of the eggplant and place on the barbeque for about 5 minutes until warmed. Serve immediately.