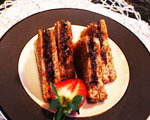 Prep: –
Cook Time: 5 min
Total: 5 min
Serving: 12 people
Craving something sweet -- why not try this grilled dark chocolate sandwich.
Ingredients
1/4 cup canned fat-free evaporated milk
2 squares BAKER'S Bittersweet Chocolate, finely chopped
8 thin slices whole wheat bread
1-1/2 Tbsp. butter, softened
3 Tbsp. semi-sweet chocolate chips
2 Tbsp. chopped toasted hazelnuts
Directions
Bring evaporated milk just to boil in saucepan on medium-low heat.
Add bittersweet chocolate.
Remove from heat; let stand 1 min. Whisk until smooth; cool slightly.
Spread bread with butter.
Place 4 bread slices, buttered-sides down, on work surface; spread with chocolate mixture, leaving 1/4-inch border around all sides.
Top with chocolate chips, nuts and remaining bread slices, buttered-sides up.
Cook sandwiches in large nonstick skillet on medium-high heat 1 to 2 min. or until bottoms are golden brown; turn.
Cook 30 sec. to 1 min. or just until chocolate filling starts to melt and bottoms of sandwiches are golden brown. Cut each sandwich into thirds.
Nutrition Information Per Serving: 90 calories, 5g total fat, 2.5g saturated fat, less than 5mg cholesterol, 75mg sodium, 10g carbohydrate, 2g dietary fiber, 4g sugars, 3g protein, 0%DV vitamin A, 0%DV vitamin C, 4%DV calcium, 4%DV iron.