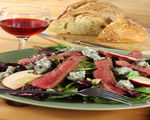 Prep: 20 min
Cook Time: 8 min
Total: 28 min
Serving: 4
Warm slices of meat ascend to unbeatable heights with the cool dressing, crisp greens and sweet mandarin orange. This recipe is brought to you by The Fitness Kitchen by Shelly Sinton.
Ingredients
1 pound flank steak.
Curry Rub:
1 teaspoon curry powder
¼ teaspoon cayenne pepper
2 teaspoons minced fresh gingerroot
2 garlic cloves, minced
1/4 teaspoon black pepper
Pinch of salt
Salad:
3 heads of romaine lettuce hearts, washed, dried, coarsely chopped (about 8 cups)
1, 6-ounce red onion, halved, sliced thin (about 1 cup)
1, 11-ounce can mandarin oranges, drained
Creamy Currant Salad Dressing:
1/2 cup currants
1/2 cup light mayonnaise
1 tablespoon minced onion
1 clove garlic, minced
1/2 cup plain lowfat yogurt
Juice of a small lemon (about 1 1/2 tablespoons)
1/2 teaspoon black pepper
Pinch of salt
Directions
Take one pound of flank steak, well-trimmed, and scored once or twice on each side.
Curry Rub:
Combine all the curry ingredients in a small bowl. Massage into steak and refrigerate for at least two hours in a zip lock bag or a covered bowl:
Salad:
Combine the salad ingredients in a large bowl and keep chilled until ready to serve.
Creamy Currant Salad Dressing:
Combine all the ingredients in a food processor and thin with more lemon juice, if needed.