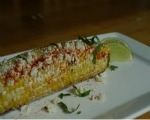 Prep: 10 min
Cook Time: 25 min
Total: 35 min
Serving: Serves 8 people
An easy grilled vegetable to add to your meal, Grilled Corn with Herbs and Parmesan is perfect most months of the year.
Ingredients
8 ears of fresh sweet corn
Salt and pepper to taste
4 tablespoons of olive oil
1 tablespoon of chopped basil leaves
1 tablespoon of chopped chives
4 garlic cloves, crushed
4 tablespoons of parmesan cheese
Directions
Preheat your grill to medium-high heat. Bring 6 quarts of salted water to a boil. Add the corn and boil for seven minutes, remove and set aside.
In a small bowl, whisk together the remaining ingredients.
Grill the corn until it's slightly charred. Baste the corn with the herbed mixture. Serve warm with your meal.