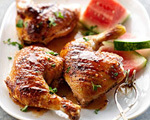 Prep: 15 hr
Cook Time: 1 hr
Total: 16 hr
Serving: 4 Servings
The ultimate summer grill recipe; the watermelon creates a wonderfully sweet and glossy glaze for the chicken.
Ingredients
3-1/2 pounds chicken pieces (drums, thighs etc.)
Sea salt and freshly ground black pepper
1 small watermelon
1 12-ounce jar apple jelly
Juice of 1 small lime
Zest of 1 small limev
2 teaspoons red chile flakes
1 teaspoon jalapeño sauce
Snipped fresh herbs to garnish
Directions
Prepare the grill on medium heat.
Cut the watermelon in half. Place one half in a juicer and cut the other half into wedges.
Pour the collected watermelon juice through a fine-mesh sieve and into a small saucepan, discarding any remaining solids.
Add the jelly to the saucepan along with the lime juice, lime zest, red chile flakes, jalapeno sauce and pinch of salt. Whisk to combine over medium heat until jelly melts and sauce becomes smooth. Remove from heat and set aside.
Brush the chicken with olive oil, sprinkle with salt and pepper and then place on the grill over indirect heat for 22 minutes. Flip the chicken and grill for an additional 30 minutes until chicken is no longer pink inside.
Remove the chicken from the grill and brush on both sides with the watermelon glaze. Let rest for 10 minutes.
Place the chicken on a platter and garnish with the watermelon wedges and some snipped fresh herbs.