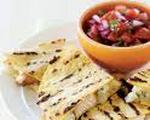 Prep: –
Cook Time: 6 min
Total: 6 min
Serving: Makes 4 quesadillas
Some nights, you just need a super snappy meal to put on the table. These grilled chicken quesadillas are the perfect way to feed your family fast! For an extra kick of health and veggie flavor, try adding fresh spinach, tomatoes, or bell peppers to your quesadillas.
Ingredients
4 flour tortillas
1 1/2 cups cheddar or American cheese
12 grilled chicken strips
2 tablespoons butter
Directions
Place 3 chicken strips on one side of each tortilla. Sprinkle cheese over the tortillas, fold the tortillas in half, and carefully smooth a thin layer of butter on the outside of each tortilla.
Place the folded tortilla butter-side down in a griddle heated to medium heat over the stove. Cook the tortilla 2 to 3 minutes on one side, then flip and cook 2 to 3 minutes on the other side.
The quesadillas are ready to serve when the cheese is melted and the tortilla has browned slightly.