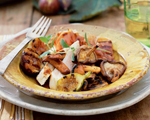 Prep: 10 min
Cook Time: 20 min
Total: 30 min
Serving: Serves 4
An absolutely elegant salad, perfect for a dressy dinner party with guests you want to impress. The subtle earthy and sweet flavors create a beautiful blend of tastes that will please even the pickiest palate.
Ingredients
1/4 cups fresh lemon juice
1/4 cup olive oil
1 tablespoon chopped fresh oregano
1 clove garlic, chopped
1/2 teaspoon salt
1/4 teaspoon freshly ground pepper
3/4 pound (about 2) boneless, skinless chicken breasts
2 cups mixed mushrooms, such as shiitakes, cremini, and portabellos
4 fresh figs, quartered
4 slices prosciutto
1/2 cup arugula, coarsely chopped
1/2 cup parmesan shavings
Directions
In a shallow dish, place the lemon juice, oil, oregano, garlic, salt, and pepper and mix well to combine.
Add the chicken, mushrooms, figs, and prosciutto to the lemon juice mix, and allow to marinate for 30 minutes.
Meanwhile, prepare the grill or broiler.
Grill the chicken for about 5 minutes on each side, so chicken is totally cooked through. Set aside to cool, and then slice into 1-inch thick pieces.
Add the mushrooms to the grill and grill for about 6 minutes until brown and soft. Set aside and cut into quarters.
Place the figs onto the grill for 2 minutes, flipping once, and set aside. Cut each piece in half.
Finally add the prosciutto on the grill and cook for 30 seconds on each side. Slice into 1-inch pieces.
Divide the ingredients between four plates, and garnish with coarsely chopped arugula and Parmesan shavings. Serve immediately.