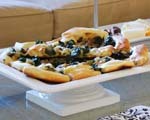 Prep: –
Cook Time: –
Total: –
Serving: Makes 6 to 8 servings
Make this delicious grilled chicken flatbread recipe as a starter for entertaining.
Ingredients
3/4 cup warm water
2 tablespoons olive oil
1 teaspoon salt
2 cups all-purpose flour
1 tablespoon granulated sugar
1 pound boneless, skinless chicken breast
1/2 cup hot sauce
3/4 cup crumbled blue cheese
Directions
Preheat grill to medium-high. In a large bowl, combine water, olive oil, salt, flour, and sugar in a large bowl. Mix well until a dough forms, taking care to not over mix.
Take dough out of bowl and divide into 2 sections. Roll each section out flat into a rectangle or circle.
Place chicken breasts on grill. Brush with hot sauce and cook through until no longer pink in the middle, flipping once or twice. Remove chicken from grill and slice into thin strips.
Place chicken evenly over both pieces of dough. Top with blue cheese crumbles. Place dough on grill and cook 15 to 20 minutes or until dough has grill marks on bottom. Serve warm.