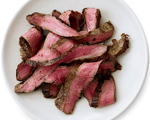 Prep: 1 hr 15 min
Cook Time: 16 min
Total: 1 hr 31 min
Serving: 8 servings
Grilled steak takes on a new dimension when it is marinated with this flavorful balsamic and garlic vinaigrette.
Ingredients
2 tablespoons balsamic vinegar
2 tablespoons extra-virgin olive oil
1 large garlic clove
1/2 teaspoon thyme leaves
1 2-1/2-pound flank steak
Salt and freshly ground pepper
Directions
Place the balsamic vinegar, olive oil, garlic and thyme in a blender, and blend until the mixture is smooth.
Place the steak in a large, shallow dish and then pour the balsamic marinade over the steak.
Let the steak stand for at least 1 hour, flipping once after 30 minutes.
Prepare the grill on moderate heat and season the steak with salt and freshly ground pepper.
Grill the steak for 8 minutes per side and then transfer to cutting board and let stand for 10 minutes before slicing thin and serving.