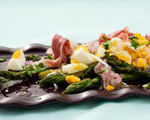 Prep: 10 min
Cook Time: 7 min
Total: 17 min
Serving:
This simple asparagus dish can be placed in the middle of a table and enjoyed as an appetizer among friends. Serve with a bottle of Barollo wine.
Ingredients
1 pound medium asparagus, trimmed
2 tablespoons extra-virgin olive oil, divided
2 teaspoons fresh lemon juice
1 tablespoon finely chopped shallot
2 ounces thinly sliced prosciutto, torn into bite-sized pieces
1 hard boiled egg, chopped
1/4 cup flat-leaf parsley
Sea salt and freshly ground pepper
Directions
Prepare a grill on medium heat.
Place the asparagus into a bowl and add 1 tablespoon of olive oil and a few pinches of salt and pepper. Toss to coat and then place on the grill and cook for 7 minutes.
In the meantime, whisk together the lemon juice, shallot, remaining olive oil and a pinch of salt and pepper.
Transfer the asparagus to a serving plate and top with the prosciutto, the egg and parsley. Drizzle with the vinaigrette and serve immediately.