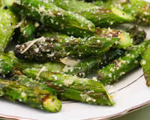 Prep: 10 min
Cook Time: 10 min
Total: 20 min
Serving: Makes 4 servings
Don't let a hot grill go to waste after cooking your favorite meat. Throw on some tender asparagus, coated in olive oil, sea salt and freshly ground black pepper, and then serve with a sprinkle of fresh Parmesan cheese.
Ingredients
1 pound asparagus
1 tablespoon extra-virgin olive oil
Sea salt and freshly ground pepper
1/2 cup freshly grated parmesan cheese
Directions
Prepare your grill on medium-high heat.
Trim the woody ends off of all the asparagus and then cut each spear, on the diagonal, into 3-inch pieces. Place the asparagus into a bowl, drizzle with the oil and then sprinkle with a few pinches of salt and pepper. Toss the asparagus well to coat and then place on the grill for about 10 minutes, turning every 2 minutes to ensure even cooking.
Transfer to a serving platter and then sprinkle with the freshly grated Parmesan. Serve immediately.