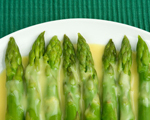 Prep: 15 min
Cook Time: 10 min
Total: 25 min
Serving: Serves 4
Zabaglione is a traditional Italian sauce made with egg yolks and Marsala wine. Serve with pieces of fresh prosciutto and a chilled white wine.
Ingredients
3 large egg yolks
1 large egg
3 tablespoons Marsala
2 tablespoons unsalted butter, softened
1 tablespoon heavy cream
1 teaspoon freshly ground pepper
Kosher salt
2 pounds large asparagus
2 tablespoons extra-virgin olive oil
3 tablespoons freshly grated Parmigiano-Reggiano cheese
Directions
Prepare your grill or broiler on a medium-high heat.
Bring a medium saucepan of water to a slow simmer.
Meanwhile, whisk the egg yolks, the egg and the Marsala wine together in a heatproof bowl. Place the bowl over the saucepan of water and quickly whisk contents until sauce forms stiff peaks, approximately 5 minutes. Set aside the bowl.
In another bowl, blend the butter with the heavy cream and the pepper. Slowly, and with 1 tablespoon at a time, whisk the butter mixture into the egg mixture. Season sauce with salt and pepper to taste and set aside sauce, keeping warm.
Toss the asparagus with the olive oil and sprinkle with salt. Grill the asparagus for about 5 minutes on all sides until tender.
Place the asparagus on a serving platter and spoon over the sauce. Sprinkle with the Parmigiano-Reggiano cheese and a grind of freshly ground pepper.