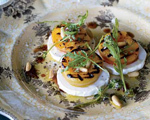 Prep: 15 min
Cook Time: 7 min
Total: 22 min
Serving: 4 Servings
This makes such an elegant appetizer with sweet and savory flavors that are further complimented by the addition of buttery toasted pine nuts.
Ingredients
6 fresh apricots, halved and pitted
3 tablespoons extra-virgin olive oil
1 teaspoon thyme leaves
Salt and freshly ground pepper
2 tablespoons pine nuts
1-1/2 teaspoons aged balsamic vinegar
1 bunch, stemmed 4 ounces arugula
1 4-ounce log fresh goat cheese, cut into 12 slices
Directions
Prepare a grill on high heat.
Put the apricots in a bowl along with 1 tablespoon of olive oil, the thyme and few sprinkles of salt and pepper. Toss to coat and then place on the grill and cook for 2 minutes on each side.
In the meantime, put the pine nuts in a small skillet over medium heat and toast for 3 minutes, stirring frequently to prevent burning.
Place the remaining olive oil in a bowl along with the vinegar and a pinch of salt and pepper. Whisk well to combine and then add the toasted pine nuts and the arugula; toss to coat.
Put the slices of goat cheese on a platter and top with the grilled apricots and the arugula. Serve immediately.