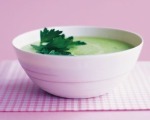 Prep: 20 min
Cook Time: 50 min
Total: 1 hr 10 min
Serving: Serves 6 people
Green veggies soup is filled with many different vegetables -- all green -- and makes a great side dish or light meal served with crunchy bread.
Ingredients
7 cups vegetable stock
3 tablespoons olive oil
2 leeks, white parts only, chopped
2 tablespoons all-purpose flour
1 teaspoon dried thyme
1/2 teaspoon fennel seeds
1 head Boston lettuce, cleaned and coarsely chopped
1 pound spinach, stalks removed
2-1/2 cups frozen peas
1 bunch of arugula
4 tablespoons chopped fresh mint
2 tablespoons chopped fresh parsley for garnish
Directions
Bring the vegetable stock to a boil in a medium-sized saucepan. Meanwhile, in a large saute pan, heat the oil. Add the leeks and cook on low heat for about five minutes, stirring constantly. When the leeks are soft, remove the pan from the heat.
Transfer the leeks to a large saucepan. Gradually stir in the flour until incorporated, then add the stock, a little at a time. Season with salt and pepper and add the fennel seeds and thyme.
Return the pan to high heat and bring it to a boil, stirring it constantly. Add the lettuce, spinach, peas, watercress and mint and bring it to a boil again. Continue to boil, stirring constantly, for about 4 minutes, and then reduce the heat, cover it and simmer for about 30 minutes.
Remove the soup from the heat and allow it to cool slightly. Add the soup to a food processor (you may have to do this in batches), and process it until it's smooth. Return the soup to a clean pan and reheat it, stirring occasionally. Serve in individual bowls and garnish with the parsley.