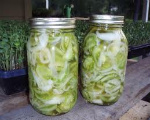 Prep: 8 hr
Cook Time: 1 hr
Total: 9 hr
Serving: approximately 6 jars
REcipe for green tomato canning.
Ingredients
10 pounds green tomatoes
2/3 cup salt
6 cups water
4 1/2 pounds white onions
4 cups vinegar
1 cup sugar
2 tablespoons mustard seed
2 tablespoons celery seed
Directions
Slice the tomatoes and onions and place in a large pot in alternating layers, sprinkling with salt after each layer. Cover and allow it to stand overnight. Drain.
Add 2 cups of water and 2 cups of vinegar and bring to a boil. Drain.
Add in 2 cups vinegar, 4 cups of water, sugar, celery seed and mustard seed. Bring to a boil for 30 minutes, stirring occasionally.
Pour into hot sterilized jars and seal.