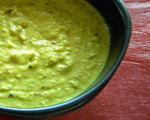 Prep: 15 min
Cook Time: 40 min
Total: 55 min
Serving: Makes about 2 cups
Chutney adds wonderful sweet and spicy flavor to dishes. Use it in place of traditional condiments for added flair and depth.
Ingredients
1 tablespoon peanut oil
1 garlic clove, peeled and minced
2 jalapeño peppers, with seeds, chopped
3 shallots, peeled and chopped
1/4 cup uncrystallized candied ginger
1 large green or red bell peppers, cored, seeded and chopped
10 green tomatoes, cored and chopped
sea salt
2 cardamom pods
1/2 teaspoon mustard seed
1/2 teaspoon coriander seed
1/2 teaspoon cumin seed
1/4 teaspoon cayenne pepper
1/2 cup apple cider vinegar
2 tablespoons grated palm sugar or brown sugar
Directions
Place the peanut oil into a large sauté pan over medium heat. Once it begins to shimmer, add the garlic, jalapenos, shallots, ginger, and bell peppers, and sauté for 4 minutes.
Stir in the green tomatoes and a few pinches of salt. Cook the mixture for 2 minutes before mixing in the cardamom, mustard seed, coriander, cumin and cayenne; cook for an additional 2 minutes.
Add the vinegar and the sugar to the pan and then bring the mixture to a boil. Once boiling, reduce the heat to medium-low and simmer the mixture for 30 minutes.
Set the chutney aside to cool before transferring to clean glass jars. Store the chutney in the refrigerator for up to 1 month.