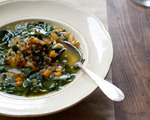 Prep: 10 min
Cook Time: 40 min
Total: 50 min
Serving: 6 Servings
This lush and aromatic vegetarian dish is made with a delicious combination of leek, onion, sweet potato, chard, spinach and ginger. For a slightly deeper flavor, stir 1/2 teaspoon of tamari into the soup prior to serving.
Ingredients
1 large yellow onion, chopped
2 tablespoons olive oil
sea salt and freshly ground black pepper
1 large sweet potato, peeled and diced
4 cups cold water
1 large leek, white and light green parts, coarsely chopped
1 bunch spinach, coarsely chopped
1 large bunch green chard, coarsely chopped
3 tablespoons chopped fresh ginger
2 cups vegetable broth
fresh lemon juice
Directions
Place the oil into a medium-sized sauté pan over low heat. Once warm, add the onion and sprinkle with a pinch of salt; cook, stirring occasionally, for 35 minutes to caramelize.
Put the sweet potato, water, leek, spinach, chard, ginger and a few pinches of salt into a soup pot and then bring the mixture to a boil.
Once boiling, reduce the heat to medium-low and simmer for 35 minutes, covered. Stir in the caramelized onions and the broth, and bring the mixture to a simmer.
Season the soup to taste with fresh lemon juice and additional salt and pepper, and then serve immediately.