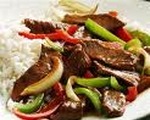 Prep: 15 min
Cook Time: 25 min
Total: 40 min
Serving: 6
Green Pepper Steak with Rice is a family favorite.
Ingredients
1 1/2 pounds sirloin steak, cut in 1/4 inch thick strips
1 tablespoons paprika
2 cloves garlic, crushed
2 tablespoons butter
1 cup green onions, sliced
2 green peppers, cut in strips
2 large fresh tomatoes, chopped
1 cup beef broth
2 tablespoons cornstarch
2 tablespoons soy sauce
3 cups hot cooked rice
Directions
Sprinkle steak with paprika. Let stand for several minutes. Brown steak and garlic in butter in skillet. Add next four ingredients; cover. Simmer for 15 minutes.
Blend cornstarch and soy sauce with 1/4 cup water in small bowl. Stir into steak. Cook until thick, stirring constantly. Serve over rice.