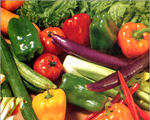 Prep: 10 min
Cook Time: 20 min
Total: 30 min
Serving: 6
Use summer's bounty when making Green Pepper Salad.
Ingredients
6 large green bell peppers
Dressing: 1/3 cup mayonaise
1/4 cup white vinegar
2 teaspoons sugar
1 teaspoon salt
1/4 teaspoon white pepper
Directions
Preheat oven to 450 degrees F. Place peppers on a baking sheet and bake 20 minutes until skin puckers and turns brown. With knife, peel skin from peppers while still warm; core and cut into 1/4 inch wide strips.
Make dressing: Combine remaining ingredients in a medium bowl. Whisk until smooth. Add pepper strips and toss until well coated. Cover and refrigerate.
Before serving drain sauce.