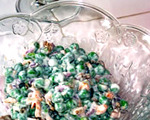 Prep: 1 hr 40 min
Cook Time: 5 min
Total: 1 hr 45 min
Serving: 4 Servings
Use fresh or frozen peas for this lovely salad. Petite green peas work the best as they have a much sweeter taste and more delicate presentation.
Ingredients
1 (10-ounce) package frozen petite green peas, or 3 cups fresh peas
1 cup thinly sliced celery
3 green onions, thinly sliced
2 tablespoons mayonnaise
2 tablespoon sour cream
2 teaspoons freshly-squeezed lemon juice
Sea salt and freshly-ground black pepper to taste
Directions
If using frozen peas for this dish, rinse under cool water, drain and pat dry. For fresh peas, cook in a pot of boiling water for 3 minutes, drain and then rinse under cool water. Pat the peas dry.
Place the mayonnaise, sour cream, lemon juice and a few pinches of salt and pepper to taste into a small bowl and mix well to blend.
Put the peas, celery and onions into a shallow bowl, top with the sour cream dressing and then gently toss to coat. Cover the bowl and place in the refrigerator for 1-1/2 hours prior to serving.