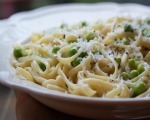 Prep: 10 min
Cook Time: 10 min
Total: 20 min
Serving: Serves 4 people
A little green goes a long way in this Green Pea Pasta recipe. Quick, simple, delicious -- smashing!
Ingredients
1 pound of fettuccine or tagliatelle pasta
1, 16-ounce package of frozen peas, thawed
3/4 cup of ricotta cheese
1-1/4 teaspoons kosher salt
1/4 teaspoon black pepper
1 tablespoon of chopped fresh chives
1 tablespoon of extra virgin olive oil
Directions
Cook the pasta according to the package directions.
As the pasta cooks, use a food processor or blender and pulse the peas until chopped. Be careful not to puree them.
Add 1/2 cup of the ricotta cheese. Add salt and pepper to season, and pulse to combine everything.
Drain the pasta and reserve 1/3 cup of the pasta water.
Place pasta back in the pot. Add the pea puree and reserved pasta water and toss all together.
Dish out the pasta into individual serving bowls. Top with the remaining ricotta cheese, sprinkle with chives and drizzle on a bit of the olive oil.