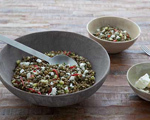 Prep: 10 min
Cook Time: 25 min
Total: 35 min
Serving: 4 Servings
Lentils aren't only delicious in soups but they also make fantastic salads when cooked 'al dente' and tossed with a zesty vinaigrette.
Ingredients
Zest of 1 lemon
2 tablespoons lemon juice
1 shallot, finely diced
1 clove garlic, chopped fine
1/2 teaspoon ground cumin
1/4 teaspoon paprika
3 tablespoons extra virgin olive oil
Salt and freshly ground black pepper
2 cups green lentils
1/2 English cucumber, peeled, seeded, finely diced
1/4 cup piquillo peppers, cut into thin strips
2 tablespoons coarsely chopped fresh cilantro
2 tablespoons coarsely chopped fresh parsley
2 tablespoons coarsely crumbled feta cheese
Directions
Cook the lentils 'al dente' according to package directions, drain and then set aside to cool.
Place the lemon zest and juice, shallot, garlic, cumin, and paprika into a large bowl and whisk until thoroughly blended. Add the olive oil in a slow and steady steam, while whisking vigorously to combine, and then add a few pinches of salt and pepper to taste.
Put the lentils, cucumber, peppers, cilantro, and parsley into the bowl and toss the mixture to coat. Season to taste with additional salt and pepper and then serve the salad topped with the crumbled feta cheese.